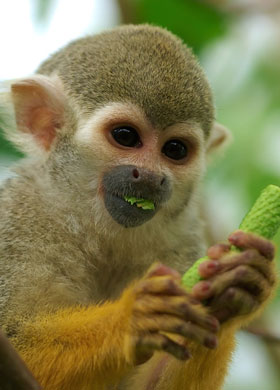 One of our smaller species, common squirrel monkeys reside within our sanctuary in harmony with the larger capuchins and spider monkeys. Because of their tiny size, they are often tricky to photograph in the wild (see Bushbabies Photo Contest!) and are naturally vulnerable to predators such as hawks, jaguars and snakes. Relatively independent in nature, squirrel monkeys (even those kept as pets) generally do not crave human attention as other known species have, such as the inquisitive capuchin monkey.
Physical Characteristics:
The squirrel monkey's colouration is grey with traces of red-orange fur and yellow-orange arms, hands and feet. Their ears have small tufts of white fur on the ends, as well as around their eyes. Upon looking closer, one can see the circle of brown-black fur surrounding their mouths. Squirrel monkeys are very light: males weigh 554-1150g, and are only approximately 318mm long.